White Dressers for my Granddaughters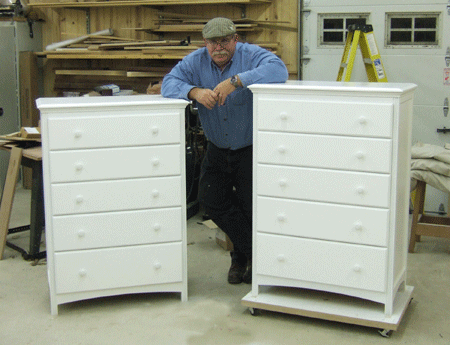 This project is poplar and MDF, both of which are excellent choices for a painted project. The side panels, top, and all the drawer fronts are MDF, while the structural frame is poplar joined with loose tenons utilizing the "Festool Domino" machine. This machine is a dream to use and makes the loose tenon joint simple in much the same as a bisquit joiner.

I chose General Finishes "Endoro" water-based finish for the undercoat and topcoat. Enduro is a lacquer type high solid water-based finish material. Since I was using a water-based product on MDF, I first applied a coat of Zissner B-I-N Shellac-based primer sealer on the MDF. The shellac primer sealed the MDF so the water-based finish would not raise the grain.

The edges of the top and drawer fonts have a routed profile that had to be sealed prior to any finishing. I used DAP drywall compound on all these edges to seal them. This turned out to be a very difficult, messy, and frustrating step because of the difficulty sanding the profile created by the router bit. I would dip a finger into the DAP and get a glob on my fingertip and work the DAP into the edge, trying to keep it uniform and not build too much material in the crisp contours of the edge. After drying, I used various sanding pads made from foam to conform to the profile. As much trouble as this step was, it was absolutely essential since it totally sealed the porous edge of the MDF.

I applied two coats of undercoat and two coats of top coat using my HVLP spray system, sanding lightly between coats. Since this was my first attempt at achieving a "furniture quality" white finish, I was realistic in my expectations. This project was an excellent learning experience and reflected the adage that when you are finished with the woodworking, you are less than 50% done with the project!